Associate/Supplier of the Year
Wm. Jason Hagerman, of Diamond State Financial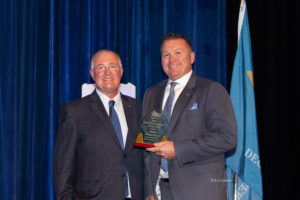 Associate/Supplier of the Year
This year's winner is Jason Hagerman. The award is given to the individual that has made a significant contribution to the association through committee involvement and sponsorship of ABC events.
Jason is a member and supporter of ABC who truly believes in the fundamental values of ABC. He has committed countless hours of his time to ABC.
Jason has served on various committees and currently is the chair of our Membership Growth and Development, a position he's held for the past two years. He helped us continue and expand our ambassador program that matches committee members with new members to help them become involved in ABC while getting the most out of their membership. Jason is a member of the ABC National Beam Club which was established to recognize ABC's top membership recruiters for their commitment to growing the association.
Diamond State Financial has been an avid supporter of ABC and is a participant in our annual sponsorship program. This program provides funding for all events and meeting statewide on a yearly basis.
"Jason's contribution to our association over the years has been invaluable," said Edward Capodanno, ABC President.  "He has given outstanding service to our association and industry and we are truly fortunate to have an involved member like Jason Hagerman and Diamond State Financial."
| Year | Name | Company |
| --- | --- | --- |
| 1997 | Truitt W. Jefferson | Jefferson Urian, Doane & Sterner |
| 1998 | Mark Pruslak | Wilmington Savings Fund Society |
| 1999 | Jerry DiEleutrio | Nucar Connection |
| 2000 | Charmaine Imburgia | K-Video Multimedia Productions |
| 2001 | Donald Logan | Tighe, Cottrell & Logan, P.A. |
| 2002 | Robert MacIntosh | O'Donnell, Naccarato & MacIntosh |
| 2003 | Richard L. Conway | Wilmington Trust Company |
| 2004 | Susan Miller | Eastern Industrial |
| 2005 | Sallie Ann Conner | Schneider Trailer & Container Rental |
| 2006 | David Curran | TRI-Supply Equipment |
| 2007 | Joanne Clark | Wilmot Modular Structures |
| 2008 | Joyce Hein | Excel Business Systems |
| 2009 | John Wheeler | Wheeler, Wolfenden & Dwares |
| 2010 | Tricia Clendening | HR Strategies |
| 2011 | Kevin Thomas, Jr. | Insurance Financial |
| 2012 | Debra S. Shears | Weiner Benefits Group |
| 2013 | Robert Elder | Santora CPA Group |
| 2014 | Kevin Fasic | Cooch & Taylor |
| 2015 | Christopher Carvelli | Enterprise Fleet Services |
| 2016 | Frank Dobson | Dobson Associates |
| 2017 | John Johnson | Karins and Associates |
| 2018 | Christina Kelley | Delaware Today |
| 2019 | Neal Mesick | Tri-Supply and Equipment |
| 2020 | Victoria Petrone | Baird Mandalas Brockstedt |