ABC Delaware 2022 Young Professional of the Year
Samantha Weick   Young Professional of the Year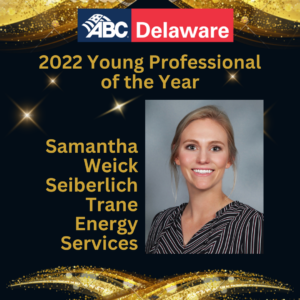 Samantha Weick is the winner of the 2022 Young Professional of the year. The winner is chosen based on strong leadership skills, strong teamwork and a strong sense of integrity. The person selected also has rendered outstanding service to ABC Delaware, their company and their community.
Samantha has been an active member of ABC Delaware for years and currently serves on the ABCares, Events and Young Professionals committees. She is eager to support ABC at many events such as the crab feast, networking nights, and planning conference. Seiberlich Trane has sponsored, donated material, supplies and provided employees to many events throughout the year. She is also part of the ABC NextGen program that matches young professionals with board members and helps them with personal and professional development.
Samantha's leadership also shines outside ABC Delaware. She has volunteered at Ronald McDonald House, Eco plastics of Delaware, Ministry of Caring and B+ Foundation.
"Samantha and Seiberlich Trane have been an active member in our association through committee involvement, event sponsorship and community service projects," said Edward Capodanno, ABC Delaware President. "With her passion, determination and drive, Samantha is well deserving of our Young Professional of Year award."
| Year | Name | Company |
| --- | --- | --- |
| 2018 | Leah Curran | TRI-Supply & Equipment |
| 2019 | Matt Laird | Assurance Media LLC. |
| 2020 | Greg Finkle | Trinity Subsurface Engineering, LLC. |
| 2021 | DJ Herr | Wohlsen |