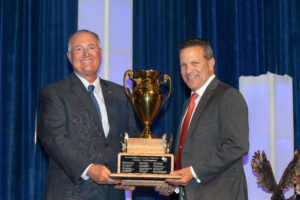 Charter Cup Winner 2021
Matthew Degli Obizzi Honored with Charter Cup
This year's winner is Matthew Degli Obizzi of Ralph G. Degli Obizzi and Sons.  This award is presented annually to the ABC contractor member who exemplifies the true meaning of the Merit Shop philosophy and has contributed to the success of the association.
Matthew speaks loud and clear for the merit shop. Ralph G. Degli Obizzi and Sons is a founding member of ABC Delaware doing work in the Mid-Atlantic region. He has served on the Board of Directors and held every office in the association including Chairman of the Board in 2018.  He is a third-generation leader of ABC from his family. His father Ralph Sr. served as Chair in 1993 and his brother Ralph Jr. served as chair in 1999. He also served a 3-year term on the ABC National Board of Directors.
Matthew shows incredible passion for the protection of free enterprise and open competition and is never afraid to speak out on his beliefs.  He is one of the most avid supporters of ABC and promotes our association on daily basis with his employees and friends.
He has served as a former chair of our Careers in Construction Committee and spearheaded our effort with attracting young men and women into the industry. He also was the driving force behind ABC's efforts with local vocational school districts in providing them with support for their open houses, co-op programs and summer camp.
He has always been one of the first members to step up and help ABC on legislative matters, growing membership or promoting the importance of engaging future leaders into our association to create the next generation of ABC supporters. Ralph G. Degli Obizzi and Sons has a long and distinguished record of support to our association through committee involvement, event participation and volunteer work.
He has been a strong supporter and contributor of both our local Political Action committee and our national Political Action committee which help elect pro-merit shop legislators.
"Matthew is one of the most avid supporters of ABC and promotes our association on a daily basis to employees and friends," said Edward Capodanno, President of ABC Delaware.  "He is constantly advocating careers in construction and the great opportunity it can provide people.  He is an individual that truly embodies the spirit of ABC and is well deserving of this award."
| Year | Name | Company |
| --- | --- | --- |
| 1986 | S. Kenneth Adams | Coastal Group, Inc. |
| 1987 | S. Kenneth Adams | Pace Electric, Inc. |
| 1988 | James R. Gordon | Wyman Electrical Service Company |
| 1989 | Karl Kraus | Kershaw Construction Company |
| 1990 | Dennis W. Neal | Neal's Inc. |
| 1991 | Lawrence J. | DiSabatino Construction |
| 1992 | Ralph G. Degli Obizzi, Sr. | Ralph G. Degli Obizzi & Sons, Inc. |
| 1993 | Daniel N. Delcollo | Delcollo Electric, Inc. |
| 1994 | Verino Pettinaro | Pettinaro Construction Company |
| 1995 | John S. Bonk | M. Davis & Sons, Inc. |
| 1996 | David "Corky" Jacobi | Jacobi Contractors |
| 1997 | James A. Cerullo | Wohlsen Construction Company |
| 1998 | Ronald T. Mooer | J.A. Moore & Sons, Inc. |
| 1999 | John W. Walker, Sr. | J.W. Walker & Sons |
| 2000 | Leonard Iacono | Daisy Construction Company |
| 2001 | Ralph G. Degli | Ralph G. Degli Obizzi & Sons, Inc. |
| 2002 | Steven G. Dignan | Paul A. Nickle |
| 2003 | John W. Walker, Jr. | J.W. Walker & Sons |
| 2004 | Robert C. Suppe | RC Fabricators |
| 2005 | Richard H. Treml | Delcard Associates |
| 2006 | William B. Robinson | George & Lynch |
| 2007 | Michael B. Berardi | Nason Construction |
| 2008 | Gary Drumheller | SC&A Construction |
| 2009 | Stanley R. Sykora | Erco Ceilings, Blinds & Floors |
| 2010 | Douglas Johnston | Bruce Industrial |
| 2011 | Richard Rettig | Merit Mechanical |
| 2012 | Lew Morrison | County Group |
| 2013 | Joe Swarter | Custom Iron |
| 2014 | John Gooden | MDavis |
| 2015 | Joe Moretto | Pearce & Moretto |
| 2016 | Sonny Telford | Sobieski Life Safety |
| 2017 | Paul Langan | Tri-M Group |
| 2018 | Lorri Grayson | GGA Construction |
| 2019 | Steve Lex | Pettinaro Construction |
| 2020 | Thomas Dilley | Smucker Company |